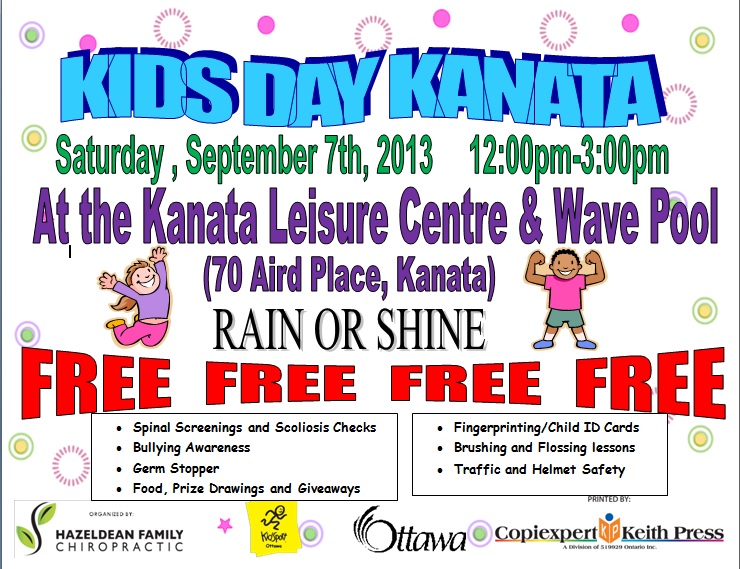 Kids Day Kanata 2013
On Saturday, September 7th, 2013, the 3rd Annual Kids Day Kanata will be held once again at the Kanata Leisure Centre and Wave Pool in Kanata (70 Aird Place) from 12:00pm until 3:00pm. This annual event, organized by Drs. Erin McLaughlin and Pierre Paradis of the Hazeldean Family Chiropractic Clinic, focuses on the health and safety of children.
During this FREE event, various health professionals will be on hand to give demonstrations and educate children and their parents on a variety of health and safety related topics:
Hazeldean Family Chiropractic Clinic – Spinal Screening
Hazeldean Family Dental Centre – Brushing and Flossing
Kanata Leisure Centre – Fitness and Swimming Programs for Kids
Ottawa Safety Council – Traffic Safety
Western Ottawa Community Resource Centre – Bullying
Hannah Juneau – Arbonne Products
ThinkFirst / Parachute – Helmet Safety
St. John's Ambulance – Guide Dogs
City of Ottawa Public Health – "Be a Germ Stopper" (Hand Washing)
Popeye's Supplements – Supplements for Kids
Ottawa Police Department – Fingerprinting / Child ID Cards
Councillor Marianne Wilkinson – "Time Capsule"
There will be food, drinks, and KidSport Ottawa will also be there with their "Fun Zone"! During the same hours (12:00pm to 3:00pm), the Kanata Leisure Centre will be having a family wave swim. Why not plan on attending a wave swim and stopping by the Kids Day Kanata activities afterwards?!
We are hoping that many of you will be able to attend. This event has been a great success over the past two years and we hope that the 3rd year will be even better!
Again, it's Saturday, September 7th, 2013 from 12:00pm until 3:00pm. See you then!