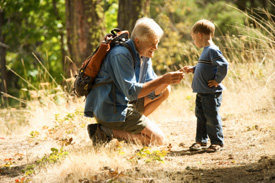 Have you thought about what your life will be like at 70? What about beyond that? How healthy and vital will you be in your senior years?
People Are Living Far Longer Than Ever Before
As a large portion of our population enters its senior years, many countries are discovering that people are living far longer than ever before – making it to 100 isn't the rarity it has been in the past.
We all know that making healthy lifestyle choices as early on in life as possible greatly contributes to our lifespan. But, the German Aging Study, which first began in 1996, has shown that even at the age of 70, your behaviour and activity can have a major impact on an enjoyable retirement.
When seniors begin to engage in a sedentary lifestyle, their retirement years are not nearly as enjoyable had they continued to remain active. This is particularly true if life involves regular socialization within the community, as well as a healthy diet and exercise routine.
Diet, Exercise and a Vibrant Social Life
Unfortunately, as many of us find ourselves dealing with chronic health issues and myriad medications well before the age of 70, this can obviously play a factor in our lifespan.
Combined, all of these issues can make the idea of living to be 100 seem less appealing. After all: How enjoyable can life really be if one is suffering from ill health and complete lack of mobility?
Edward J. Stieglitz M.D. wrote in his book, The Second Forty Years:
The important thing to you is not how many years in your life, but how much life in your years."
Remember, that along with diet, exercise and a vibrant social life, chiropractic plays an integral role in helping your body function at its fullest potential, regardless of age. Let us continue to help you along the path of a well-lived life!