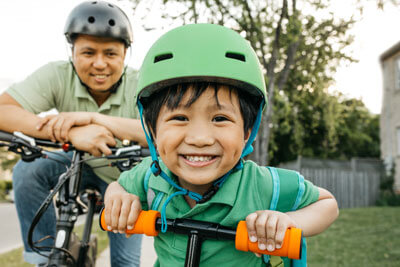 The necessity of regular chiropractic care for children can be a controversial topic. Parents bringing older kids to a Chiropractor are most often looking for help with a specific condition such as scoliosis (an abnormality of the spine) or an injury – a collision at soccer or a fall off playground equipment.
In the case of infants, conditions such as torticollis (the medical name for a tight neck muscle) can cause difficulties during breastfeeding, so parents seek the help of a Chiropractor to correct the issue.
But is regular, wellness-based chiropractic care for children really necessary?
Consider this: during the first few years of their life, children learn to crawl and walk. A lot of time is also spent playing energetically, jumping off things they shouldn't be jumping off, and falling!
During these years, children's bodies are growing at a tremendous rate. Just take a child's spine as an example: it grows 50% in the first year of life, and another 42% from the ages of 1 to 5. The human spine continues to grow until we are in our mid-30s.
With the spine growing so rapidly and the potential for injury, regular chiropractic checkups are vital to giving a child the best possible chance of a fully functioning spine. Many issues we see in adult patients are the result of something that happened years ago, quietly worsening until their body could no longer adapt, and symptoms arose.
In addition to growing mental health issues, the current pandemic has thrown another curveball at kids' health: the increased amount of time kids are spending hunched in front of electronic devices while homeschooling is having a negative impact on their spinal health. Check out the following video which the Chiropractors at Hazeldean Family Chiropractic Clinic recently shared with their patients:
Chiropractic is non-invasive, and the gentle yet effective adjustments will help your child's body to function as it was designed to do.
Drs Pierre Paradis and Erin McLaughlin are here to help! If you live or work in Kanata and the surrounding area, give us a call at (613) 831-9665.