Chiropractors with Compassion
Saving lives, one child at a time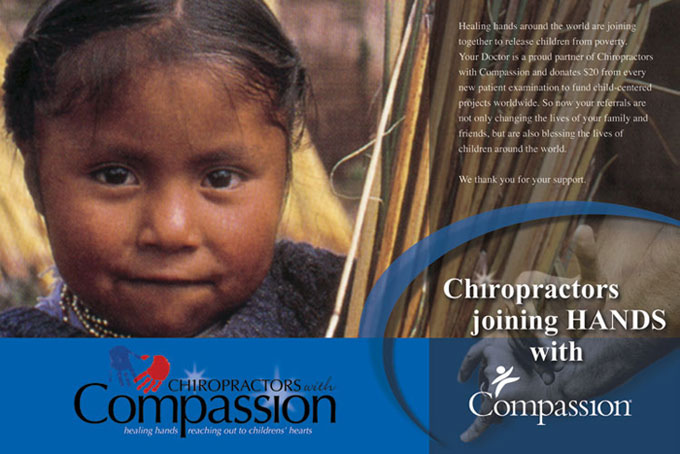 How would you feel if you knew you were helping to save a child's life? If you were helping to fund worldwide, child-centered projects? If you were giving a child and his family a chance to be released from poverty?
We at Hazeldean Family Chiropractic Clinic are thrilled because we are committed to transforming children's lives. We have an alliance with Chiropractors with Compassion, a charity that has partnered with Compassion Canada in raising money to release children around the world from poverty. We donate a portion of every new patient examination fee to fund child-centered projects in many countries around the world.
---
Project 8 – In Progress:
Transforming a Community from the Inside Out – Dominican Republic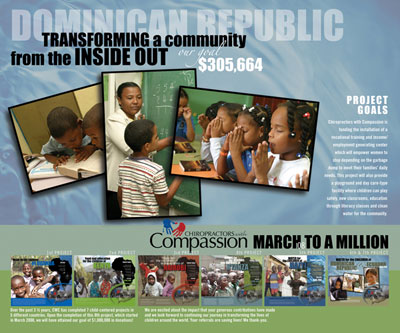 This project is funding the installation of a vocational training and income/employment generating centre which will empower women to stop depending on the garbage dump to meet their families' daily needs.
This project will also provide a playground and daycare-type facility where children can play safely, attend new classrooms, receive education through literacy classes, and have access to clean water for the community.
Over the past 3.5 years, Chiropractors with Compassion has completed 7 child-centered projects in 5 different countries. Upon the completion of this 8th project, which started in March 2008, we will have attained our goal of $1,000,000 in donations!
We are excited about the impact of these contributions and we look forward to continuing our journey in transforming the lives of children around the world. Your referrals are saving lives!
---
Project 7 – Completed March 2008 – $66,780
Project 6 – Completed December 2007 – $69, 541
Water for the Children of Dominican Republic and Ecuador
In association with Healing Water Ministry, Compassion International wants to install four water systems in different partner churches in the Dominican Republic and Ecuador, which will allow more than 5000 people access to pure, healthful water.
---
Project 5- Completed October 2007 – $66,780:
Water for the Children of Haiti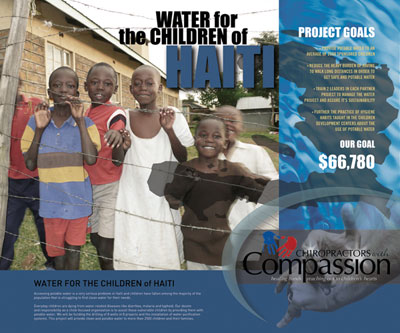 One of the biggest problems that children face everyday is accessing clean and potable water. To help solve this problem, Compassion Haiti is providing water cisterns. Five projects and more than 2500 sponsored children and their families will be the beneficiaries of clean and potable water.
---
Project 4 – Completed June 2007 – $204,500:
Homes for the Widows and Orphans of Nyanza – Nyanza, Kenya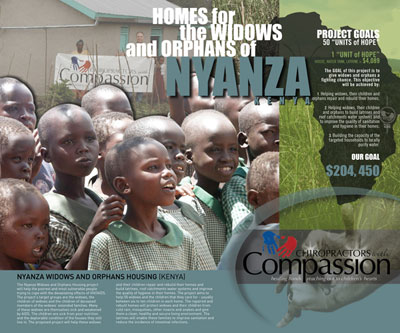 This project will help the poorest and most vulnerable people trying to cope with the devastating effects of HIV/AIDS. The project's target groups are the widows, the children of the widows, and the children of deceased members of the widows' extended families. Many of these widows, and are themselves sick and weakened by AIDS.
The children are sick from poor nutrition and the deplorable condition of the houses they still live in. The proposed project will help these widows and their children repair and rebuild their homes and build latrines, roof catchment water systems, and improve the quality of hygiene in their homes. The project aims to help 50 widows and the children that they care for – usually between 6 and 10 children in each home.
The repaired and rebuilt homes will protect widows and their children from cold rain, mosquitoes, other insects, and snakes, and give them a clean, healthy, and secure living environment. The latrines will enable these families to improve sanitation and reduce the incidence of intestinal infections.
---
Project 3 – Completed September 2006 – $125,000:
Mathare Street Children Rescue Centre – Mathare Valley, Nairobi, Kenya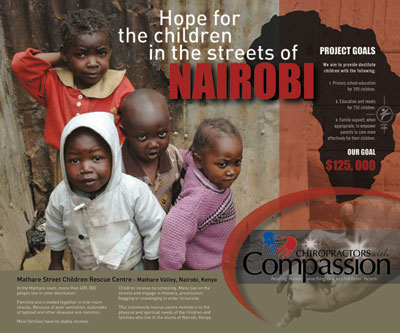 In the Mathare slum, more than 600 000 people live in utter destitution. Families are crowded together in one-room shacks.
Because of poor sanitation, outbreaks of typhoid and other diseases are common.
Most families have no stable income. Children receive no schooling. Many live on the streets and engage in thievery, prostitution, begging, or scavenging in order to survive.
This community rescue centre ministers to the physical and spiritual needs of the children and families who live in the slums of Nairobi, Kenya.
Goals:
Primary school education for 399 children.
Education and meals for 750 children.
Family support, when appropriate, to empower parents to care more effectively for their children.
---
Project 2 – Completed November 2005 – $100,000
Food and Education for the Children of Kenya
Student Teachers Environmental Program (STEP) – Machakos and Kajiado, Kenya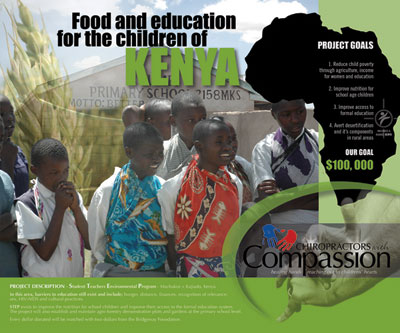 In this area of Kenya, barriers to education still exist and include hunger, distance, finances, recognition of relevance, gender, HIV/AIDS, and cultural practices such as early marriage and pregnancy.
STEP exists to improve nutrition for school children and improve their access to the formal education system. The project will also establish and maintain agro-forestry demonstration plots and gardens at the primary school level. 42 teachers in 12 schools will be trained to participate in STEP.
The cost of the project is $499,780 and the Chiropractors with Compassion goal is $100,000. Every dollar raised will be matched 2:1 by the Bridgeway Foundation.
A cheque for $100,000 was presented to Compassion Canada on November 12, 2005 at the Warrior Coaching Leadership Summit 2 in Toronto.
---
Project 1 – Completed April 2005 – $61,875.00
Water for the Children of Uganda – Kisoro, Uganda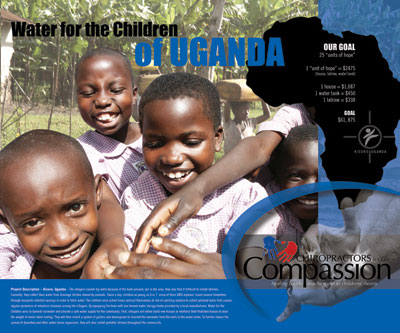 The villagers cannot dig wells because of the hard, volcanic soil in the area; they also find it hard to install latrines. They collect their water from drainage ditches shared by animals. Twice a day, children as young as 6 or 7, many of them AIDS orphans, travel several kilometres through mosquito-infested swamps in order to fetch water.
The children miss school hours and put themselves at risk of catching malaria to collect polluted water that causes regular epidemics of intestinal diseases among the villagers. By equipping the town with pre-formed water storage tanks provided by a local manufacturer, Water for the Children aims to harvest rainwater and provide a safe water supply for the community.
First, villagers will either build new houses or reinforce their thatched houses to bear the weight of metal sheet roofing. They will then install a system of gutters and downspouts to channel the rainwater from the roofs to the water tanks.
To further reduce the spread of dysentery and other water-borne organisms, they will also install portable latrines throughout the community.
GOAL – 25 Units of Hope (1 "unit" = house, water tank, latrine)
---
Click here to be directed to the Compassion Canada website for more information. There you can also read more about the Child Sponsorship Program.
---