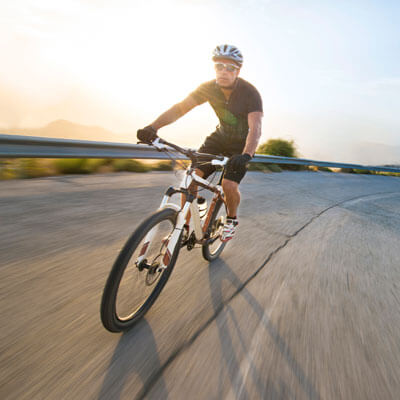 Cycling is a favourite pastime for many Canadians. Unfortunately, this healthy, fun activity can result in some injuries. Sooner or later every cyclist takes a tumble.
Here are couple of things to know if you crash:
Walk around for a while to assess your injuries
Gently move your arms and wrists
Check your helmet to see if it is damaged; this will let you know if you hit your head or not. If you are feeling dazed, call for help
Be prepared: always carry a few basic first-aid supplies (Band-Aids, gauze, disinfectant, small bandage roll)
Examine your bike frame for any damage
Check the tire pressure and wheel alignment
Are there broken wheel spokes or chain links?
Do the brakes still work?
Be prepared: always carry an emergency repair kit including a tube, a pump, and a basic multitool to fix your bike
The repetitive nature of biking can also increase the risk of injury. It is also an activity that tends to force your muscles into the same position for longer periods of time.
The neck is bent up at an awkward angle to enable the cyclist look forward
The back is in a hunched position causing lower back muscle pain
Pain around the kneecap occurs because the constant movement puts a strain on the connective tissues and causes inflammation
Warm Up & Maintain a Routine
The best way to prevent injury is to warm up before each ride and maintain an exercise routine which builds muscular endurance. Focus on strengthening neck and shoulder muscles, mobilizing your spine, keeping your hip flexors and rotators mobile.
Ask your chiropractor for the best exercises to keep you exploring those cycle paths, or contact Hazeldean Family Chiropractic Clinic today to get started with chiropractic care!