Profession of the Month for October
We at Hazeldean Family Chiropractic Clinic are pleased to announce that Administrative Professionals are our featured Profession of the Month for October.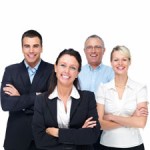 All administrative professionals will receive a chiropractic assessment, x-rays (if necessary) as well as a report of findings for an investment of only $35 during the month of October! This is a savings of over 70%!!
We see a large number of administrative professionals at our clinic, and many complain of the same problems. Lower and upper back pain due to long hours spent at a desk, carpal tunnel syndrome from repetitive motions on a keyboard and mouse, as well as a forward neck posture. This last issue, often caused by being hunched over a smartphone or tablet, destroys the natural curvature of the cervical spine, leading to neck pain and headaches. Chiropractic is a safe, drug-free, and highly effective way to reduce and eliminate pain throughout the entire body. Gentle spinal adjustments and customized posture correction exercises remove nerve interference and optimize nerve function, allowing your body to function at its highest level. Imagine how much easier your job would be without suffering in pain? Add to that, a pain-free existence during your time off, permitting you to do the things you love with family and friends — no more weekends spent on the couch or in bed, attempting to recover while consuming unnecessary amounts of dangerous over-the-counter medication? If you are an administrative professional who has been suffering with pain for too long, contact our clinic at (613) 831-9665 today. Our offer — available only for the month of October — will set you on the right path to better health!