We know how important it is for our patients to remain healthy and vital at any age — we hear it from you everyday.
One of the simplest things you can do for yourself doesn't require a trip to the gym or grocery store. It can be worked into your routine with ease, and the results are almost immediate. Have you guessed what it is?
Stretching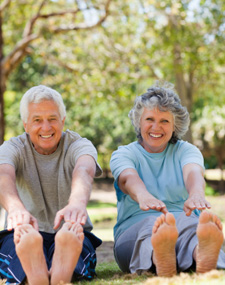 Getting your body moving is literally one of the most important factors in maintaining an active lifestyle. For some of you, this may mean high-impact workouts — others may just be looking for the ability to play with their grandkids without the hassle of aches and pains.
Keeping that range of motion means the world to your body, and helps stave off the issues like arthritis later on in life. You may think sitting in a chair at home or work for hours on end is harmless, but it's one of the worst things your body can experience in its day-to-day existence, especially if you're living with a misaligned spine.
Working in gentle head-to-toe stretching several times a day can also provide a well-needed break and stress relief, either at home or work.
The more agile you feel, the more likely you'll be to participate in other activities, as well. Walking, running, swimming, golf, weight training — all are steps in the right direction to ensuring mobility, gaining muscle strength and an overall healthier lifestyle.
Flexibility and mobility go hand-in-hand. Constant stretching and regular physical activity, along with your scheduled chiropractic adjustments, will give your body multiple advantages as you age.
Remember: You need to move it, otherwise, you're going to lose it!