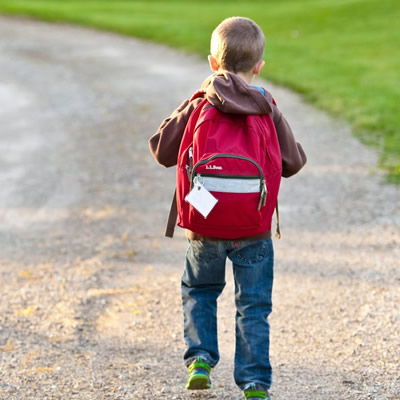 And just like that – days are getting shorter, evenings cooler, and the retail advertising blitz for "Back to School" is already in full swing.
It's time for parents and kids alike to get back into their regular routines. We wrote last time about the need for that "Summer Check," to get ourselves back into a routine after vacation time, road trips, and cottage adventures have taken their toll on good exercise and nutrition habits. With the return to school already upon us, the same advice goes for our kids.
Take Sleep
CTV ran a segment recently on how important it is to start kids now on getting their internal clocks (their "circadian" rhythms) adjusted to the bedtimes they need to ensure they get enough sleep for whatever time they will have to get up for school come September. Not only do sleepy kids not perform well at school, chronic sleep deprivation can harm their cognitive development and emotional state.
According to the American National Sleep Foundation, kids aged three to five need 10 to 13 hours of sleep, kids six to 13 need about nine to 11 hours and teens should get eight to 10.
Spinal Health: Devices and Backpacks
No doubt many kids have spent much of the summer hunched over a mobile device or game controller. We have talked at length about the issues with "text neck" and the degenerative effect this can have on their spinal health long-term. It's a tough fight to change those device habits, but with the right intervention here in our Kanata Chiropractic clinic, we can address the physical effects of all that device use.
With the return to school comes another common issue we often find responsible when kids come to us with spinal issues. Heavy backpacks, and heavy backpacks worn poorly (like always hanging off one shoulder) often leave kids with poor posture and may lead to pain.
Check out our Youtube video about how to load and wear a backpack the right way to help avoid these problems.
Nutrition
We are all busy as parents, which makes it all too easy to opt for the convenience of pre-packaged foods for a quick breakfast and school lunch or after-school snack.
Kids are bombarded with slickly advertised products that are loaded with bad fats, chemical additives, and piles of sugar – from breakfast cereals to juice boxes, instant oatmeals to toaster tarts, candy that poses as "real" fruit to salty snacks, soft drinks and energy drinks. Despite misleading labeling to the contrary, most have little or no real nutritional value to help their growing bodies – at least, not enough to outweigh the negatives.
Consider how you can avoid this trap. One way is to dedicate some time on Sunday evening to some healthy meal prep for the week. Get the kids away from their devices to help!
Exercise
According to the World Health Organization and other sources, kids right up until they turn 18 should get at least 60 minutes of moderate to vigorous intensity physical activity, each and every day.
Most of the daily physical activity should be aerobic. Vigorous-intensity activities should be incorporated, including those that strengthen muscle and bone, at least three times per week.
If their school curriculums don't provide for this, consider what after-school activities your kids can take part in that will get them active and away from those devices.
And Lead By Example
Our kids, especially those teenagers testing their boundaries, are much more likely to be diligent about their health if we lead by example instead of just preach. Getting enough sleep, eating better, being physically active – it's all good for you, too, and it helps ensure you will remain healthy and vital enough to remain a positive influence on your kids as they near adulthood.