We Look Forward to Serving You!
The clinic was founded in 2004 and is dedicated to providing compassionate care to individuals and families.
We are located in Kanata, at the southwest corner of Hazeldean Road and Castlefrank Road, in the plaza with Dollarama and Rockin' Johnny's Diner. We have an X-ray facility and free parking on site. Our team is here to serve you with convenient and flexible appointment times.
Call us today at (613) 831-9665 or fill in the form on this page.

How many pills have you taken for a headache or migraine this week?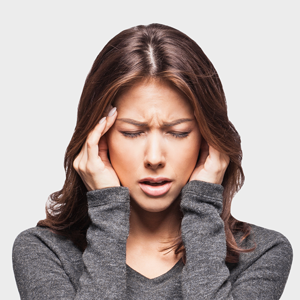 So, you have a headache.
Odds are it doesn't indicate a serious health issue. But it could. It depends on how it feels, how long it lasts, where it's located, and if and how often it reoccurs.
We admit this is less than specific, but headaches are one of those symptoms that can mean so many things. This is arguably the one symptom people most often reach for a pill.
We used "symptom" twice in the preceding paragraph. It can't be emphasized enough – a headache is a symptom of something else.
When should you take action?
That something may be a minor irritant that can be resolved with rest or stress relief. But other times, it isn't. Persistent and reoccurring headaches indicate your body has a problem that is not getting resolved and could in fact be getting worse.
What can we do to help?
The first step if you have recurring headaches is to work with you to achieve an accurate diagnosis. Depending on that outcome, we may be able to help.
Sinus headache:
First, let's talk about the sinus headache. These may be caused by allergies, cold or flu, or a sinus infection. The headache manifests as deep and constant pain in your cheekbones, forehead, and bridge of your nose. In this case, the trigger can sometime be clearly defined.
Tension headache:
The most common type of headache is the tension headache. These are caused by muscle contractions in the head and neck. Mild to intense pain is felt in the head, neck, and behind the eyes. It may feel like having a band clamped around your forehead. Tension headaches may be triggered by cold weather or emotional stress, alcohol, caffeine, strained or dry eyes, fatigue, smoking, cold or flu, or a sinus infection.
Cervicogenic headache:
A cervicogenic headache originates in the neck and may often be the result of an injury or trauma, such as a bad hit in sports or an auto accident. It may also arise because of forward head tilt – the loss of your neck's natural curve from too much time at a desk or over a mobile device.
That means a cervicogenic headache is also a symptom of the kind of neck issue we regularly address here in our clinic.
Migraine headache:
While the exact cause of migraines is not understood, they may result from overactive nerve cells that cause blood vessels in the lining of the brain to swell. This inflammation causes pain. Common triggers are stress, hormonal changes, food additives like MSG and nitrates, caffeine, fatigue, bright lights, and weather changes.
Rebound headache:
And let's not forget the rebound headache. This is a headache that can occur because of an overuse of pain medications. That's why it is important to seek medical attention if you have recurring headaches, to diagnose and to address the root cause. Common pain medications also have a long list of potential side effects and health risks.
This is a complex area of healthcare
There are many other types of headaches that some people suffer from on a regular basis. These include Cluster, Thunderclap, and Icepick. This post is by no means an exhaustive treatment of the subject. Headaches are a complex area of healthcare with many different root causes, diagnosis methods, and treatment options. The first and most important step is to seek professional advice and get an accurate diagnosis.
If you have any questions please give us a call today at (613) 831-9665.

What to Expect
Enjoy a better quality of life and rest assured that your health is our top priority.
Our state of the art facility, assessment procedure, and care will equip you with everything you need to get the results you seek.
Here's How We Can Help!
Step 1 – Consultation
During this first visit, we will do a thorough spinal and postural examination, including digital x-rays of the spine. Many people have said it is the most thorough health assessment they have ever experienced.
Step 2 – Report
The second step is your Report. During this visit we will explain to you how we plan to correct the problem.
See your x-rays and put the pieces in place to regain your health.
Step 3 – Care
And then, we begin! If we can help, we will outline a customized plan of care designed to correct and stabilize your spine.
This is when the healing happens!

What Our Patients Say
What others say about their care can help you make the right health care choice.
"I was suffering terrible migraines for years. Going from infrequent and annoying to chronic and debilitating over time. I started chiropractic care at Hazeldean Family Chiropractic Clinic about 6 months ago. I had improvements in the curvature of my upper spine by many millimeters! I have not had a migraine in over a month…and before that weeks. They had gotten so bad that I was taking prescription medicine many times a week to get relief from an almost every other day or day long episodes. I was missing work and canceling gigs.I haven't taken that the medication in over two months. It's been a lot of work (3 adjustments a week with home exercises and traction) and I have a ways to go but I never thought I would have the improvement like this. I'm so happy to have relief from the pain and a better outlook on the future of my health. Thank you Dr. Pierre Paradis!"
"From the beginning I knew this clinic was different. I have been to many chiropractors. Always with some results and relief, yet more maintenance than improvement. This clinic changed that. Their process and attention to detail has really been a game changer in my life. The quality of my day to day life has improved so much. No more thinking about moving because of the pain or tightness. Rather just living in the moment! Keeping up with my 3 kids. Gentle, consistent, and steady approach is where it is at. The staff are genuinely lovely. The Doctors…simply amazing! When you join this clinic you are really joining a family. A family where the focus is your health and well-being. I trust the staff and believe in them to the point where I have entrusted my children's health with them as well. Simply a great clinic!"
"I came to Hazeldean Family Chiropractic Clinic in September(ish) of 2018. I was fairly new to Ottawa then and have had 20+ years of Chiropractic Care from my hometown Chiro. Soon after arriving in Ottawa my migraines returned, my health was going backwards. I quit doing almost everything I enjoyed because of constant headaches and migraines. It became apparent that I still require regular adjustments to my spine in order to remain in good health. As a Christian believer I didn't want just anyone working on me, I prayed God would direct me to the right Chiropractor. I called Hazeldean Family Chiropractic Clinic and Irmgard answered the phone and voila I had an appointment the very next day.
I met with Dr. McLaughlin and knew God had opened this door for me. Almost a year later with adjustments and instructions on care for my spine, I am back to doing the things I enjoy. Running, sleeping well, walking, looking after my house and my husband and all without those nasty headaches and migraines. My spine is back in good health and I will never again let a year lapse without proper chiropractic care. This isn't just about cracking my back, it's about the full attention given to my overall health.
I am thankful and so blessed to have Dr. Erin as my Chiropractor and as I meet people and make new friends I share my story often. Thank You Dr. McLaughlin and staff for caring for my overall health not just my spine.
P.S. No pun intended but I really appreciate the flexibility to work my schedule."
"I came to the clinic after years of physiotherapy for an injury I sustained in a car accident. I felt I had plateaued with the physio and was not improving for months so I decided to give chiro a try. I don't want to say this lightly, but it has been somewhat miraculous how much better I have been in the few months since I started coming here. Most of my pain is gone, I am able to move my neck easier and my headaches from my concussion have improved greatly. As well, the staff are very kind and caring."
Dr. Pierre Paradis & Dr. Erin McLaughlin
Helping you get out of pain, without medication.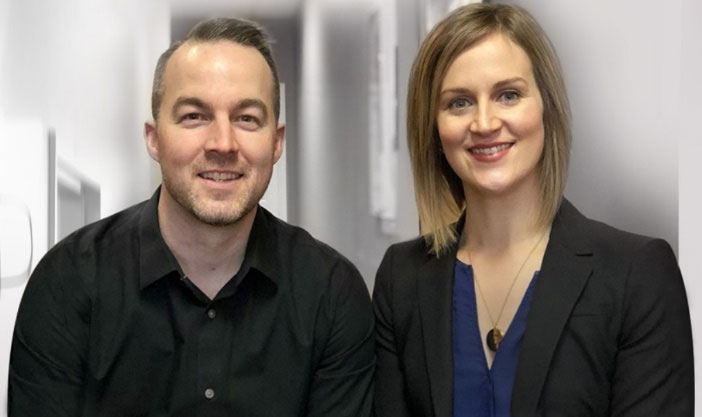 Headache or Migraine Examination | (613) 831-9665