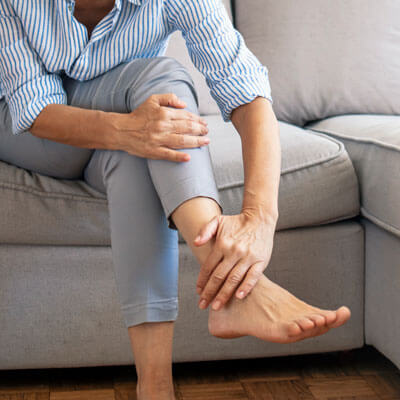 A dazzling holiday gown or that smart business skirt call for a finishing touch – a striking pair of high-heeled sandals or pumps. Unfortunately, these accessories wreak havoc with your posture.
Correct posture allows your muscles and ligaments to support your spine and skeleton. When you are standing, your ears, shoulders, hips and knees should be in alignment.
Wearing high heels shifts your centre of gravity by positioning your heels above your toes. This strains your neck and lower spine. The normal s-curve of the spine acts as a cushion or spring, reducing stress on the vertebrae. When the shape of the spine is altered, you don't get that same shock absorption as you walk which, over time, can lead to uneven wear on the cartilage discs, joints and ligaments of the back.
Dr. Walavan (Wally) Sivakumar, MD, a neurosurgeon and the Director of Neurosurgery at Providence Little Company of Mary in Torrance, CA, describes it this way: "High heels throw off your body's natural alignment by pushing your chest and lower back forward—it's like you are walking up a ramp all day."
So, does this mean that you have to throw out all your heels? No, but here are a few tips:
When attending a special event, pack a pair of comfortable flats that you change into occasionally to give your feet a break.
Stretch out your calf muscles before and after wearing heels. This can keep your tendons and muscles loose and prevent pain in your back, legs and feet.
A thicker heel on a pump helps distribute your weight evenly, alleviating pressure on your feet.
Invest in a pair of gel inserts.
If you have any questions about the health or alignment of your spine or that of your loved ones, Dr. Erin McLaughlin and Dr. Pierre Paradis are here to help. If you live or work in Kanata and the surrounding area, contact us today or give us a call at (613) 831-9665.