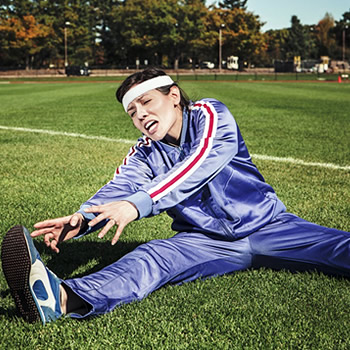 Odds are you are not getting anywhere near the recommended amount of exercise you should be doing each week. In fact, we would even dare to say there is an 84 per cent chance that you do not.
On the off chance that you are among the 16 per cent who do, congratulations. Be proud … and drink more water.
Where did we grab these numbers from, 84 and 16 per cent?
Last week, ParticipACTION released its first ever adult report card on physical fitness and it gave most of us a D grade. It found that only 16 per cent of us who are old enough to vote meet the national guidelines of 150 minutes of moderate-to-vigorous activity each week.
The report also found that 29 per cent of adults in Canada fall within the low-active lifestyle category, and adults 18 to 79 years old are sedentary for almost 10 hours per day.
According to the report (along with all the other reports, studies, and commentary from medical and fitness experts that we have cited on this blog over the years), all that inactivity can have a profound, and negative, effect on your health.
Things like increased risk of Type 2 diabetes, heart disease, stroke, obesity, and atherosclerosis. It also contributes to faster cognitive decline with age, and higher risk of slips and falls and broken bones due to the combination of poor mobility and muscle tone, and more rapid degeneration/weakening of bones and joints.
Mental health, too
While we often focus on physical health and well-being on this blog, ParticipACTION also noted how a lack of physical activity can result in you becoming more of a shut in. This leads to what is becoming recognized as a growing health problem – social isolation among older adults.
All of which brings us back to the need for you to be more proactive and diligent about being a good steward of your body.
Just look at Arnold Schwarzenegger, still pumping iron and looking ripped at 71. Sure, he's been at it since the days when weightlifting wasn't cool and even doctors warned that it might be bad for your health (we of course know better today), but even he faces challenges.
Never give up attitude is key
About a year and a half ago, Schwarzenegger underwent open heart surgery. This left him having to use a walker. He had to do breathing exercises five times a day to retrain his lungs.
"I was frustrated and angry, and in my worst moments, I couldn't see the way back to my old self," he wrote in an editorial.
But three months later, he was back in top form thanks to his persistence and never say die attitude, on the set of the new Terminator movie that debuted at theatres this past weekend.
We can't just swap out our bad parts
And speaking of the Terminator, sure, wouldn't it be great to someday have access to replacement robot parts and synthetic enhancements that work, look, feel, and register sensations just like our real bodies?
Yes, we can get a few "replacements" like a knee or a hip joint, but there are some crucial parts that just can't be replaced … yet. We are still a long way from true and seamless synthetic parts that can just be swapped in and out without complications or diminished strength, mobility, or function.
In the meantime, it remains our responsibility to maintain our bodies as best we can, if we want to maintain our quality of life.
Because one thing is for sure – and this is tough for most people to accept – the body changes over time. In most cases, once the damage is done, it's often not reversible – it can only be managed.
Your body changes – accept it
Who you were in your 20s is not who you are in your 50s – the joy of "going through life." But this doesn't mean that you can't have a great life. It just means that you have to train your body to delay those changes as much as possible or to incorporate new habits that help the "new you" be the best you possible.
As Arnie's 63-year-old co-star Linda Hamilton said in a recent interview, "You don't need a gym, you just need to be motivated."