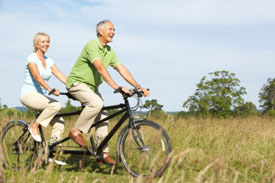 Today, we wanted to remind you how vital the combination of chiropractic, activity, and positive thinking can be at any age.
We have an 88-year-old woman we see at Hazeldean Family Chiropractic Clinic. She initially came to us with arthritis, sciatica, and shoulder pain. She has been doing incredibly well in her chiropractic care, which always thrills us to see.
Positive Attitude
However, we strongly believe that it's not just our care that keeps this spritely woman in a good mood. Her positive attitude is beyond reproach, and it's something that all of us should strive towards, regardless of age.
Our patient has recently moved into a retirement community with her husband. She refuses to refer to this facility as "The Home." She will only call it "The Apartment"! She adamantly insists that she "will not grow old" like the other patrons she now lives alongside. The walkers, wheelchairs, and overall immobility are on regular display, and our patient fights fiercely against the notion that she will be forced into an idle life.
She stays active on a regular basis: She dances, does chair exercises, and of course, receives a weekly spinal adjustment to keep her nerve function at its highest level. She is absolutely determined to never use a walker. Let us mention it again for full effect — she is 88 years old!
We share these stories with you, not only to prove how effective chiropractic care can be, but also to inspire you. Take a look at your own health and mindset: Are you fully committed to living your best life possible? Do you believe in the power of positive thinking and the advantages that an active lifestyle can provide — not just today, but for years down the road?
We invite everyone to take a page from this inspiring woman's book: Get regular adjustments, stay active, and nourish a positive and hopeful attitude. It will take you farther than you ever expected!