Our profession for this month concentrates on Military Families. Whether at home or on active duty abroad, service in any branch of the military can be an all-encompassing endeavour. Some soldiers spend long hours at a desk. Others carry heavy loads of equipment, and spend extended periods of time on their feet during various missions.
Meanwhile, family find themselves at home, attempting to cope with the stress of missing a loved one and a vital member of their household. We have many military families in our practice, and the health concerns they experience are shared with other members of our community. Back pain, neck pain, headaches, sciatica, carpal tunnel syndrome, and more.
We at Hazeldean Family Chiropractic Clinic want to show our gratitude and compassion for Military Families in our community.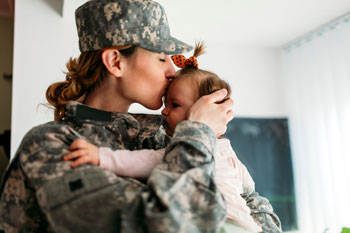 Any military family members
(adults and children) who make an appointment with us this month will receive:
An exam

X-rays (if needed)

Report of findings
All Free of Charge!
Live a Healthier Life
Stresses, both physical and mental, can take their toll on the body. These stresses manifest themselves in physical symptoms — particularly in the form of sore backs, tight shoulders and tension headaches.
Chiropractic works by improving nerve function throughout the entire body. Gentle spinal correction removes the impingement on these nerves, letting your body work at its best. Many of our patients report lessening discomfort, or even find themselves pain-free after only a few visits.
Imagine how much happier you and your family would be living a healthier life. Time spent together at home, doing the things you love, as opposed to recuperating and searching for pain medication.
We welcome you to share this with any local military families in your circle. We invite them to make an appointment at Hazeldean Family Chiropractic Clinic today, or call (613) 831-9665.