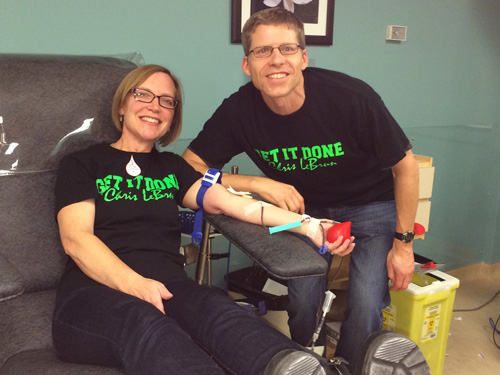 Are you thankful to be able to go to work today?
At Hazeldean Family Chiropractic, we talk a lot about using Chiropractic as a tool to help achieve and maintain good health. Have you ever thought about sharing your good health by donating blood?
To celebrate health and help spread awareness about the need for blood donors, Hazeldean Family Chiropractic has sponsored a mobile blood donor clinic!
On June 20th
At the Kanata Recreation Centre
Our Chiropractic Assistant, Kathy Bastin, was inspired by her friend, Chris, to start giving blood when he was diagnosed in 2014 with leukemia. As Chris began treatment for the blood cancer and a stem cell transplant, Kathy's awareness about the need for blood and to grow the stem registry increased. When someone you love requires blood, donating takes on a whole new meaning. Launching a public awareness campaign with friends and family, Get it Done for Chris LeBrun, introduced Kathy to others who required blood products. Because of the generosity of strangers and availability of blood products: Tom is excited to be in the final preparations for heading back to work after a 3 year medical leave; John recently graduated from College; and Mackenzie is now pursing a career in nursing and is a student at Queen's University. Sadly, Chris passed away from complications of the cancer treatment. The availability of blood and unrelated stem cell donors gave them all a second chance at life. We are grateful to all donors for helping strangers in need.
There are 1,752 blood donor appointments to fill in the Ottawa area before Canada Day to ensure the blood supply. Even though half of the Canadian population is eligible to donate, only four per cent of people do. Summer is a particularly challenging time to maintain an adequate blood supply and new donors are always needed.
We encourage you to visit blood.ca and book an appointment to donate or call 1 888 2DONATE. It's in you to give!