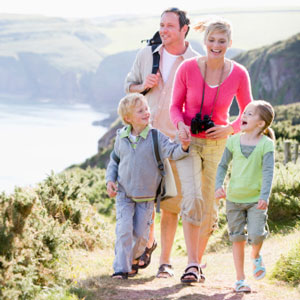 How do you keep yourself motivated to stick to your fitness program? Recently, it's been difficult to attend a gym regularly, and there have been no community runs for which to train.
A patient here at Hazeldean Family Chiropractic Clinic recently announced: "I keep fit by running and cycling on Nova Scotia's scenic Cabot Trail. And when I'm finished with that, I think I'll walk the Great Wall of China."
During a global pandemic? With all the travel restrictions currently in place?
Her secret was that she has stumbled across an online program called "The Conquerer Virtual Fitness Challenges". For a small fee, the user can choose from a wide variety of scenic routes around the world including Australia's Great Ocean Road or a walk around the city of Rome.
Running, walking, cycling or any distance activity can be posted manually on "The Conquerer" mobile app, or automatically to your favourite fitness tracker (for example, Apple Health, Fitbit). Each challenge can be completed – as an individual or as part of a team with your friends – within a timeframe that suits you. Handy statistics let you know the total distance you clock in a month, and the total distance remaining.
You can track your journey on an interactive Google map which places your "marker" at the exact point at which you are on your route. Along the route you'll see markers of other participants who are working on the same challenge.
Want to make it even more realistic? Switch to Google Streetview and you can get a 360 degree view of your exact position on your chosen route so you can admire the spectacular scenery.
"The Conquerer Challenge" cheers you on and motivates you by letting you know as you approach one of many milestones along the route. After reaching certain milestones, you receive a virtual postcard which can you share with friends.
Upon completion of the challenge, you will receive a handsome, well-deserved medal to show off. (A real medal, not a virtual one!)
Best of all, real trees will be planted on your behalf after you have completed certain portions of the journey. What better way to take care of your own health and the health of our planet?