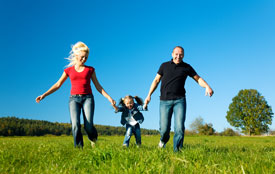 We don't necessarily think of skinny jeans as a fashion statement these days. The tight pants have been around for nearly a decade, and can still be seen on both men and women.Clothing doesn't normally impact your health, but in this case, here's something to keep in mind.
Tight jeans, while worn sitting or squatting, can lead to a condition called "compartment syndrome." On top of your muscles and nerves lays a thin layer of tissue called fascia. During compartment syndrome, swollen muscles expand. Now, think of those skinny jeans as a hard wall that the fascia can't flex against to make room for that inflammation. You can see how nerve and muscle damage could occur in your legs and feet.
Give Those Legs Some Breathing Room
We're not trying to scare you with some warning against "killer skinny jeans" in this post – what we're talking about isn't an overly common occurrence. However, it doesn't hurt to pay attention to what you're doing while wearing tighter clothing, especially when it comes to your teenagers.
Active teens are more apt to be wearing tighter jeans during physical activity without much thought. Encourage your kids to wear track pants or similar items if you know they're going to be busy – hanging out with friends, going skating or other outdoor sports, and even crouched on the floor, playing video games.
As for adults, avoid tight-fitting pants in cases where you know you're going to be sitting for extended periods – flying on a plane or working at a desk all day are perfect examples.
You don't need to stop wearing your favourite skinny jeans any time soon. Just remember that if they're feeling too tight, it's time to take them off and give those legs some breathing room. Consider it a perfect excuse to put on something comfy this winter!