Chiropractic helps Babe Ruth and other Yankees keep in perfect physical condition"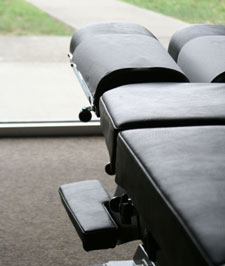 That headline ran on a sports story way back in the day when a young Babe Ruth was making his mark on professional baseball.
Professional sport and Chiropractic have a long history together. Take, for example, this video from a few years ago, in which a parade of NFL players with theSan Francisco 49ers and San Diego Chargers credit the value of undergoing regular Chiropractic care, to recover from the physical abuse of such a rough sport and perform at their best.
Any professional sports franchise is a big business, worth hundreds of millions of dollars. Achieving and maintaining peak performance is everything. According to the Professional Football Chiropractic Society, the average NFL team Chiropractor will perform 30 to 50 adjustments each week during a football season. Why? Because it works.
And then there's professional golf. It should come as no surprise that a majority of golfers have had to deal with lower back pain. Just take a look at the contortion of the spine as a golfer tees off. Many of them rely on Chiropractic to keep themselves in the game.
From football, to golf, and the Terminator
Take Canada's own Dr. Troy Van Biezen - he's been a personal coach and Chiropractor to leading professional golfers like Zack Johnson, Ricki Fowler, Nick Watney, and Jordan Spieth. His focus on injury care and enhancement of sports performance has drawn patients from the NFL, AFL, NHL, NBA, MLB, and the PGA, as well as National and Olympic-ranked gymnasts and track and field athletes.
And then there's Arnold Schwarzenegger. Here he is, speaking at the New York Chiropractic Life Center:
"You got to let the people know that it is a necessity, it's not even an option, it's a necessity, to have a Chiropractor, as much as it's a necessity to have a Dentist," he said.
If high-performance athletes and multimillion-dollar sports franchises see value in Chiropractic, what does that say about its effectiveness?
But don't visit a Chiropractor just because they say so
Should you see a Chiropractor just because someone with celebrity status endorses it? Of course not. As in all things, assess the facts for yourself and do what makes sense for you.
On the other hand, if so many individuals for whom physical performance is so important see value in trusting their spinal health to a Chiropractor, that should at least illustrate it is a worthwhile and legitimate form of healthcare.
If you hurt, if you've lost mobility, if you suffer in any way as a result of injury, lifestyle or work habits, you owe it to yourself to at least give Chiropractic a try and see if it will make a difference for you.
All we ask is that you walk in the door with an open mind.