What you can learn from this 73-year-old Ontario woman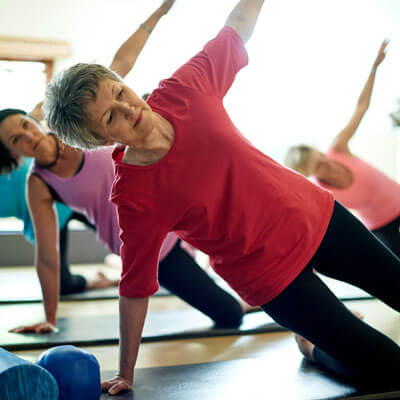 Even casual readers of this blog will have noticed our recurring focus on health and fitness. After all, spinal health is just one piece of the puzzle. Healthy eating, cardiovascular training for heart health, weight training for joint and bone health – these are all equally important, particularly as we age.
We made that point about a month ago when we talked about how it's time to terminate your excuses for not exercising. We used as examples the stars of the latest Terminator movie, 71-year-old Arnold Schwarzenegger and 63-year-old Linda Hamilton.
Which no doubt led some of you to roll your eyes and say, "Of course, but they're movie stars – they are paid to be fit. They have piles of money for personal trainers and home chefs and the whole bit."
That's true, but you don't need the money for a health and fitness entourage to whip you into shape. You just need the motivation, along with some education on what to do and how to do it right.
If you don't believe us, just ask Joan MacDonald of Cobourg, Ont. – she's 73.
The CBC featured Joan's fitness journey last month.
Finding the motivation to change
At about the age of 70, Joan was overweight (around 200 pounds) and on daily prescriptions for high blood pressure, high cholesterol and acid reflux. She had already undergone surgery to have a tumour removed from her abdomen and to repair her knee, and also suffered from progressive arthritis. Her state of health had begun to negatively affect her relationships with family.
Three years later, Joan is 62 pounds lighter. She hits the gym at least four times a week, where she pumps iron (as well as does her cardio) and can do pullups! Joan has become a social media sensation and an inspiration to women around the world.
And frankly, gentlemen, she most definitely should be an inspiration to you, as well.
"People think that lifting weights (at my age) is terrible for your body," Joan told the CBC. "But the more you lift, the stronger your bones become. Why would you want to have soft bones?"
No more medications
That's right – by losing weight and becoming more active, Joan has entirely escaped the need for those high blood pressure, high cholesterol and acid reflux medications.
What can we learn from Joan's story?
Lifestyle choices, more than any other factor, have the greatest impact on your state of health as you age, for most people.
You are never too old to start: Even with arthritis and a knee that's had surgery. The only thing that changes is how you should start, and how you should progress, to avoid injury.
You just need to find your personal motivation: More medications and the prospect of losing her independence did it for Joan.
Get qualified advice on what to do and how to do it properly: Joan had the benefit of a family who were health and fitness gurus to advise her on nutrition and how to safely and effectively train at the gym. But there are plenty of resources in the Kanata area we can refer you to who can help you get started.
And take advantage of the latest tools to make it all easier: She may be in her 70s, but that didn't stop Joan from being tech-savvy. She joined an online fitness group that included women from around the world for ongoing support and accountability and uses apps for training, meal planning and to track her progress.
"I would love to have more people change their lives from being sickly to stronger and capable of looking after themselves," Joan told the CBC.
Amen to that.